Groupama is the 9th largest multi-line insurance company in France, with €14 billion in total revenue in 2019 and 6.5 million customers and members.
Groupama Gan Vie (GGVie) is the French life insurance company within the Groupama Group and one of the leaders in Life Insurance in France.
ASSETS UNDER MANAGEMENT : ~ 100 billion euros* ( SFCR raport 2019) and several million unitary unit-linked orders per day
ZONE : 9 countries
ACTIVITIES : Multi-line insurance company
Project concerns and specificities
In order to affirm its position as a major provider of Unit-linked Life Insurance in France, Groupama Gan Vie (GGVie) wanted to acquire a complete Front-to-Back solution that would allow it to industrialize the entire unit-linked asset value chain for multi-support and/or high-end products, and for all types of management methods (external investment funds, internal collective funds and internal dedicated funds, etc.).
The chosen solution must allow GGVie teams to overcome the following challenges:
Automating order book management (integration of orders from Policy System, aggregation, recycling, validation and sending of orders, transaction notices reconciliation).
Controlling financial risks by limiting asset-liability gaps through improved monitoring of asset-liability matching
Mitigating operational and regulatory risks
Monitoring activities thanks to KPIs, dashboards, and reports
Rapidly scaling up to high volumes and for new needs (functions, diversified investment supports, etc.).
"Beyond its ability to cover our functional needs and meet our challenges, we wanted a scalable solution providing rich connectivity (with Policy Management Systems, custodians, market data feeds, etc.), available customization options (compliance rules, reporting, dashboards, KPIs, import formats, etc.), and the ability to diversify investment vehicles.
After a thorough market study, JUMP proved to be the solution that best met all of these criteria. "
---
"A partnership with a 100% French provider (…) of unit-linked asset management solutions."

Sophie Le Berre, technical and accounting director GGVIE
---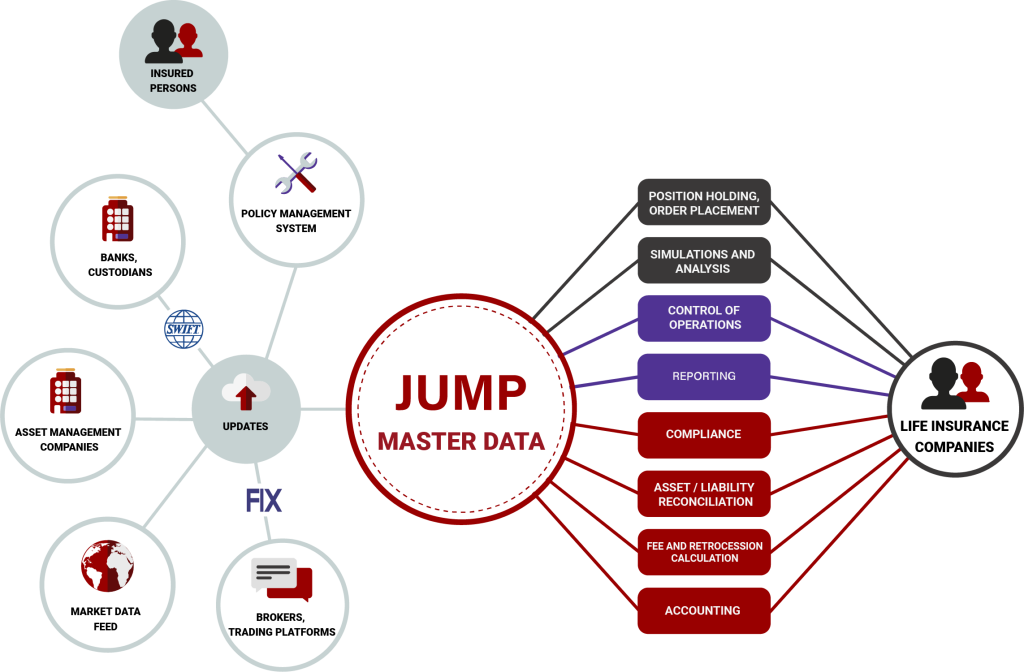 ► Why JUMP ?
" As a leading provider of unit-linked asset management solutions, JUMP won us over, as their solution met all our needs, while providing significant adaptability options (integrated configuration consoles, connectors, and optional modules, etc.) and strong scalability guarantees. Moreover, as a French mutual insurance company, we of course appreciated the fact that we were building a partnership with a 100% French provider."
► A solution tailor-made accourding to our needs
"We have strong growth objectives for our unit-linked operations and, thanks to JUMP, we will have the ability to absorb increasingly large volumes, while maximizing the automation of our management operations (processing of orders and feeds, identification of asset-liability gaps, regularizations, etc.). Our teams will be able to focus on monitoring business thanks to customized dashboards, exception handling, and high value-added tasks."
---
"We are proud and grateful that, after Groupama Asset Management and its adoption of JUMP Reporting, Groupama Group, through its subsidiary Groupama Gan Vie, is further demonstrating its confidence in JUMP for their highly strategic implementation of a Front to Back solution."

Emmanuel Fougeras, CEO of JUMP Technology
---