Interview with : David Pawelkowski Head of Operations of Zadig Asset Management
Zadig Asset Management S.A. is an independent European asset management company. Zadig Asset Management LLP, based in the UK and founded in 2005, advises the asset management company in its investment strategies. For more than 10 years, Zadig has consistently applied a rigorous investment strategy. Through its UCITS SICAVS, Long/Short Equity strategy, and institutional mandates, Zadig's conviction-based management offers both institutional and private clients high and deversified returns.
Zadig manages a range of UCITS funds via SICAV Memnon (Memnon European Equity, Memnon Market Neutral, Memnon ARP) and institutional mandates. The value of these assets, which is constantly growing, now amounts to several billions euros.
AUM : 1 to 5 billion euros
ZONE : United Kingdom / Luxembourg
ACTIVITIES : European Equity and Long/Short Market Neutral Fund Management
HOW DID JUMP SOLUTION MEET THE ADVANCED NEEDS OF A MULTI-SITE ASSET MANAGER (LUXEMBOURG AND THE UK)?
In order to support the growth of its traditional and alternative asset management activities and to meet the requirements of advanced CFD management, Zadig needed to rethink its information system.
Within this context, Zadig drew up an ambitious set of requirements in order to identify the software solution that would respond to the following major challenges:
CONSOLIDATION : Have access to a rich and complete software solution that centralizes the management and control of its Fund Management activities
COMPLIANCE : Satisfy client and complex regulatory demands, while being autonomous and reactive, to create, modify and apply compliance rules
COMPREHENSIVENESS : Complete coverage of asset management specificities such as CFDs, matching broker interfaced with OMGEO CTM, FIX connectivity with EMSX and TSOX interfaces, etc.
The implementation of a new software solution turned out to be all the more strategic for Zadig as the company is evolving in several markets: Luxembourg (European Union) and the United Kingdom. This international background means Zadig must held accountable to the regulatory constraints specific to each market. The main challenge was also to find a single solution meeting its Front-to-Back needs, that covers all its specifities and could be easily interfaced within its ecosystem (custodian, broker, EMSX, OMGEO CTM, etc.).
After an in-depth study of leading software solutions on the market, Zadig Asset Management chose JUMP.
---
"JUMP's Front-to-Back software not only allowed us to meet our data consolidation needs within a single solution, focusing on Front Office activity, but it also gave us the freedom to control and modulate the software according to our needs."

David Pawelkowski, Head of Operations of Zadig Asset Management
---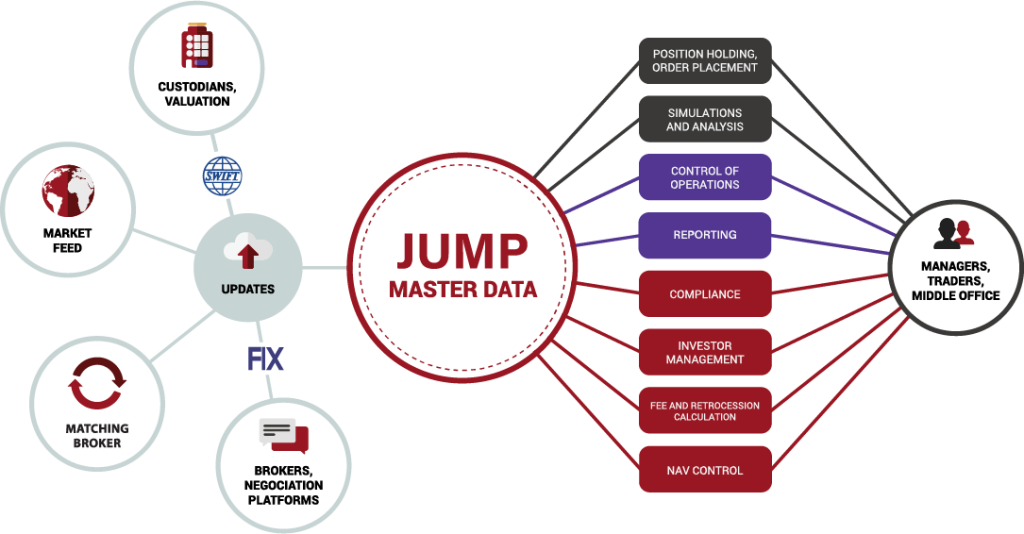 ► Why jump ?
JUMP made an ambitious promise to provide us a single software solution that would meet our Front-to-Back needs while complying with our project deadline requirements. One of the major deciding factors in our choise was the adaptability of the software to the specificities of our traditional and alternative investment management and CFD management. With JUMP, we have found the responsive and efficient partner that we were looking for with some highly invested teams on top of it all.
► A solution tailor-made according to our needs
Our users particulary appreciate the fact that they can build their own dashboards and work environments and master the creation of compliance rules. What's more, the order import features and interface with EMSX and OMGEO platforms allaws us to streamline our processes and ensure complete traceability of all activity within Zadig.
Finally, we appreciate the fact that JUMP is as present in the UK as it is in Luxembourg to support our local teams.
---
"JUMP is delighted to support a client such as Zadig Asset Management in its ambitious project to digitize and consolidate its activity. With Zadig JUMP strengthens its global presence as well as the Front Office Feature capacities of its software suite for Hedge Funds."

Emmanuel Fougeras, CEO of JUMP Technology
---